Walk-In Chiropractors in Doral
$39 CHIROPRACTIC ADJUSTMENTS


FIRST TIME AND EVERY TIME​
    No Appointments
    No Hidden Fees
    Don't Like People Touching Your Neck? That's Cool With Us.
Monday: 
Tuesday: 
Wednesday: 
Thursday: 
Friday:
Saturday: 
Sunday: 
12:00 PM – 8:00 PM
12:00 PM – 8:00 PM
12:00 PM – 8:00 PM

12:00 PM – 8:00 PM

12:00 PM – 8:00 PM

10:00 AM – 6:00 PM

Closed
FIRST TIME AND EVERY TIME
Includes any or all of our chiropractic services during your visit.
Want more info? Fill out the form and we will be in touch.
Don't Want Your Neck Touched? That's Cool With Us.
Ready to feel good again? Let's get cracking!
Your health is important, so when you are in pain, have suffered an injury, or are recovering from surgery, chiropractic care may be the best option for you to get back to good health in Doral. Our SnapCrack chiropractic team is eager to relieve you of your back and neck pain and help you learn more about the root cause of your injuries. Whether you suffer from migraines, herniated disks, or were involved in a car accident, our professional and wonderful staff can help you achieve better health in South Florida. At SnapCrack, we hope that our website provides the answers you need on how to book an appointment. If you would like to switch to the accessible version of this site, then go to the accessible site.
Can I make same-day appointments with a chiropractor in Doral?
We understand that you need relief from your distressing symptoms right away, whatever your particular health situation is. Pain keeps you from your family, your work, and the things that you enjoy doing. That is why we offer same-day appointments, as well as no-wait walk-in care. Your first visit with us is only $29, and every subsequent visit costs the same.
During your session, we will use our hands and other tools to apply a sudden force to your joints, pushing them beyond their usual range of motion and causing a cracking and popping sound. The result is that when you leave our office after an adjustment, you feel ready to live your best life!
Are Chiropractors Doctors?
Before they are able to work with patients, all of our staff are required to graduate from accredited programs in their field.
Doctor of Chiropractic
Chiropractors undergo many years of training before they practice. Usually, they have completed four years of undergraduate education in the sciences, such as biology or chemistry, and then complete a chiropractic graduate program which culminates in a clinical internship. At the end of their studies, they receive their Doctor of chiropractic. In their program, they learn about the philosophical underpinnings of chiropractic care in addition to diagnosing and recommending treatment for symptoms and illnesses.
A chiropractic degree is required before taking licensing exams and administering treatment to patients. We hire energetic, passionate professionals who provide chiropractic care to our Doral patients looking to heal their bodies and achieve lifelong health. You can contact our office to learn more about each professional chiropractic provider.
Massage Therapist
Every state sets its requirements for the number of hours of hands-on experience that students must complete before obtaining their massage therapy license. In Florida, students must complete 500 hours of hands-on experience before they can sit for the exam. When you come to SnapCrack for your massage appointment, you can be confident that you will receive excellent service from an experienced and skilled massage therapist who understands how illness and injury affect both body and mind. They are an excellent complement to chiropractic care to help treat back pain, neck problems, and other issues. Call our office now to schedule your appointment with a massage therapist.
Physical Therapy
A physical therapist is a doctor who often works with patients who have severe injuries or have undergone surgery. After completing three years in graduate health studies, they must sit for a licensing exam. Our physical therapists have a passion for exercise and recreation and value good health for themselves and their clients. They customize each service to their patient's needs, whether they are learning how to walk again after a catastrophic accident or are seeking relief from back pain due to illness.
Do chiropractors prescribe medication?
Chiropractors are unable to prescribe medication. In fact, philosophically, chiropractic treatment differs from traditional medicine in that the goal is to treat symptoms, such as back and neck pain or migraine headaches, with therapeutic exercises, chiropractic adjustments, and massage therapy rather than medications or surgery.
Choose SnapCrack in Doral
A chiropractor in Doral can help you achieve optimum health. At SnapCrack, we offer same-day service in our office. The first time you come to SnapCrack for your chiropractic needs, your chiropractic adjustment is only $29.

Every time after your initial visit is also only $29. We are proud to offer a no-wait policy at all of our Miami locations, so you can get back to enjoying your life immediately.

We understand that people in Doral like to live active lives and that they don't have time to wait for pain relief. We also offer touchless relief if you prefer this service. Whatever your needs are, we can help. We are located at 95 Andalusia Ave, Coral Gables, FL 33134. You can view an accessible version of our website. For more information, you can call us or email us at nfo@snapcrack.com.
You might consider pausing your chiropractic sessions while you're pregnant. But don't cancel your next appointment quite yet. Many doctors say there are no known complications caused by chiropractic therapy. It's safe regardless of the term of pregnancy you're in. Additionally, you can expect many benefits from receiving help from a chiropractor while pregnant. If
Read More »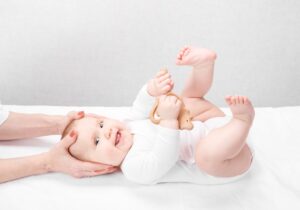 When you go to get chiropractic treatment, you might wonder if your baby can, too. Your baby might feel the same sense of relief you do if they received chiropractic therapy. It is not only safe for babies to receive treatments from chiropractors but also healthy for them. For treating newborns, chiropractic therapy is an
Read More »
Due to the increased usage of computers and mobiles, one of the most common complaints medical professionals receive is neck pain. Chronic neck pain and headaches are some signs you may need a chiropractic neck adjustment. Chiropractic adjustments are excellent ways of relieving tension in the neck muscles. If you do not want surgery or
Read More »