$29 CHIROPRACTIC ADJUSTMENT
Professional Athletes and Chiropractic Care
While many of us enjoy shooting baskets for fun or spending our weekends on the tennis courts, some of us stand out from the rest. Professional athletes rely on their bodies to out-perform competitors and become the best in their field. It's not always easy, however, to look after your body when it's under such immense pressure. Training day-in-day-out can take its toll, and sporting injuries can even end a career. So, what is an athlete to do if they are worried about harming their body during their career?
Athlete Recovery and Chiropractic Health
It's no secret that professional athletes have their wellness routines down. When you are physically active for a living, wellness is not just about removing puffy bags underneath your eyes. Wellness is about looking after your body in every single way, to make sure you can be fighting-fit when you hit the arena. It has been claimed that many infamous golfers, as part of the Professional Golfers' Association (PGA), include chiropractic care as part of their wellness routine. How can you perfect that swing if your shoulders hurt and your back is misaligned? In fact it's claimed that up to 85% of all of the injuries sustained on the PGA Tour were spine-related, with up to a whopping 75% of athletes receiving chiropractic help as a result.
The same can be said for the NFL, who also rely heavily on chiropractors to keep their athletes at their optimal athletic performance. Plenty of athletes within US professional football use professional chiropractors and keep them closely tied to their training regimen. The reason for this is NFL players hugely benefit from spinal specialists for their musculoskeletal problems that arise as a result of such a physical contact sport. Just like the PGA, 77% of NFL players have been referred to a chiropractor for their injuries and maintenance.
FIRST TIME AND EVERY TIME
Includes any or all of our chiropractic services during your visit.
Want more info? Fill out the form and we will be in touch.
Don't Want Your Neck Touched? That's Cool With Us.
Ready to feel good again? Let's get cracking!
The Benefits of Chiropractic Care for Athletes
Spinal adjustments can prevent injuries
Having a back that's out of whack when you're trying to hit an ace, take a corner or leap over a hurdle could have disastrous consequences. Getting your back and limbs sorted before going out in the field is just as important for preventing injuries as it is repairing them. Get in touch with us today about booking a consultation with our expert chiropractors to ensure that you are doing everything possible to prevent injuries.
While many may envy most professional athletes' bodies, they do put themselves through a lot. In order to reach a peak level of fitness and performance, they frequently have to go through punishingly intense routines. It's inevitable that this will have an impact on how their bodies feel and what they are capable of if they're not looked after. Chiropractors often travel with athletes to make sure that their bodies are as soothed as they can be.
Having a chiropractor such as our experienced professionals at SnapCrack isn't just about repairing your ailments. Flexibility is important for professional athletes; and not just the gymnasts. Our chiropractors can analyze the whole movement of the body and improve its alignment. The spine specialists look at the kinetic chain of the body as a whole. This essentially means checking for stiffness and misalignment. By fixing the alignment of the body, they can ensure that the joints remain flexible and able to move properly. This in itself is preventative. Not dealing with this could lead to pulled muscles and other musculoskeletal problems.
You might be surprised by just how much athlete chiropractic adjustments can help an athlete during recovery. Aligning the spinal column helps to ensure that blood flow to the nervous system and muscle tissue is not obstructed. This further allows quicker reaction times by keeping the brain and muscles well nutritioned with plenty of oxygen. 
It's been said that visiting a chiropractor for regular chiropractic treatment in between training can reduce an athlete's need to stay in recovery for prolonged periods of time. By minimizing athlete recovery time, they can spend more time in the field, doing what they do best. This is great for their peace of mind, and also for their future career. 
The more time athletes spend in training, the better they will become at their sport. Practice really does make perfect, particularly before a big game or tournament. Missing this crucial training time could impinge on their performance. Missing training sessions as a result of tension, injury, or general musculoskeletal problems could be disastrous. By preventing and treating injuries professional athletes can maintain their well-earned titles by staying on top of their game.
Many of us forget just how much physical exertion is required in order to be able to stand on a plinth and receive a gold medal. However, these miracles of genetics are also just human beings at the end of the day. This means they land awkwardly, pull muscles, fall over and make mistakes. In order to prevent retiring early, they will need to look after their spinal and muscular health.
Our chiropractors are the best people for the job when it comes to ensuring their bodies are aligned correctly and relieved of any unnecessary tension. Don't hesitate to get in contact with us today to experience the chiropractic benefits for athletes first-hand.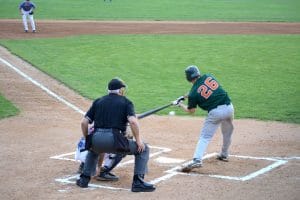 Baseball is a hugely popular sport that many people enjoy. However, injuries can happen while playing the game – whether you are a professional athlete or a novice. The repetitive hitting and throwing motions in baseball put stress on the spine and make players susceptible to strains and back pain. If you notice back pain
Read More »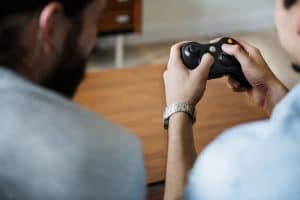 Playing video games is a fun pastime that many people enjoy. However, sitting for long hours can harm your health, particularly when it comes to your spine. Video gaming injuries are becoming increasingly common and include everything from back pain to carpal tunnel syndrome. If you start to experience pain while playing video games, you
Read More »
If you have lower back pain, then you're not alone. Studies show that over half of American adults experience back pain every year. Back pain is a widespread health condition that causes millions of lost workdays every year. Not only can back pain affect your career, but it can also have a significant impact on
Read More »