SNAPCRACK CHIROPRACTIC
Treatment for Upper Back Pain
Chiropractic Care for


Upper Back Pain
At SnapCrack Chiropractic, you can get quick and easy chiropractic care for your upper back pain. With no waiting times and immediate, fast treatment, you could finally get the relief you need from your upper back pain. That's because we specialize in treating the causes and symptoms of upper back pain, and we do it in a way that suits you. With low costs, no hidden fees, and no need for insurance, at SnapCrack we have designed the best possible facility for alleviating your discomfort. You don't even need an appointment! Simply walk in, get your upper back treated, and walk out feeling relieved. Let's get cracking!
SnapCrack Chiropractors for Upper Back Pain
Whatever is causing the pain in your upper back, we have the treatment solution to suit you. We have three main types of spinal manipulation techniques that are tailored to the causes of your back pain, as well as your own preferences. If you don't like your neck being touched or you don't want to go out of your way to take x-rays, then you don't have to worry. Our hassle-free chiropractic locations have been expressly designed so that you can get chiropractic adjustments whenever and however you need it. If your upper back pain is affecting your life adversely, then you can choose from the following types of effective chiropractic treatment:
FIRST TIME AND EVERY TIME
Includes any or all of our chiropractic services during your visit.
Want more info? Fill out the form and we will be in touch.
Don't Want Your Neck Touched? That's Cool With Us.
Ready to feel good again? Let's get cracking!
A manual adjustment with a cracking sound that leaves you feeling amazing!
The most popular form of chiropractic treatment in the world. That's not really a surprise, because it's incredibly effective for the treatment of all kinds of pains, aches, and discomforts. Using applied pressure to your joints and vertebrae, our skilled practitioners can help to get rid of the buildup of gas and pressure that is a leading cause of upper back pain. Massaging those trouble areas with extreme precision means that you get instant relief (and that lovely, satisfying pop that comes with instant depressurization). For upper back pain issues, walk into your nearest SnapCrack to see a chiropractor for upper back pain and neck pain, and we'll get cracking!
Back doesn't сrасk? Our drop tаblе has your back!
For a more mild form of treatment, we provide The Drop. This technique uses a Thompson Drop Table and elevates the part of your body that is causing you problems. With a simultaneous application of pressure alongside the drop of the table, you get immediate and satisfying relief. This type of treatment is more subtle than The Crack and doesn't usually involve any cracking or popping sounds. The Drop is a light yet effective type of treatment.
Nо сrасk, no drор? The click will do thе triсk!
The gentlest form of chiropractic treatment available, and it's ideal for those that are looking for something less intense. If you have upper back pain then our licensed chiropractic physicians will use a handheld instrument that targets a low-impulse force to your problem areas. This is a fast, precise, comfortable and gentle treatment that is remarkably effective at treating upper back pain. If you have alignment issues causing your back pain, then this is an excellent option to consider.
What to expect from your first visit to SnapCrack
First-time visitors to one of our SnapCrack facilities are always amazed by the environment and care that we are famous for. A truly unforgettable experience, you get the exact treatment that you need, faster than you might have thought possible, and all at such a low cost that you don't need to hassle your insurance company. We provide:
A no-appointment, in-and-out service that offers the ultimate in convenience
A strict no-wait policy that means you get seen as soon as you walk through the door, and no long waiting times for treatment
A professional but friendly environment that is designed to help you relax
No insurance hassles and and no referrals
No commitment to use our amazing services again
At SnapCrack, the only pressure that you'll ever feel is from the relieving chiropractic thrust that will get rid of your aches and pains in as little as five minutes! On your first visit to SnapCrack, we'll have a quick chat about your upper back pain and find out a little about what you're looking for. We do a brief medical exam and find out something of your medical history. This helps us to ensure that you get the best treatment options.
Once you've been seen by an upper back pain doctor or chiropractor, you head straight into your pain treatment without long waiting times. After you've chosen your chiropractic treatment, our physicians will get to work on reducing your upper back pain symptoms and getting rid of them once and for all. For instant relief, it's hard to beat the best in chiropractic treatment, and with our no-appointment system, you can return whenever you need.
Living with upper back pain can cause a serious reduction in your quality of life. For improved energy, less pain, and fewer distractions caused by your aches and pains, a visit to SnapCrack can ensure that you finally get the treatment that you need to target the symptoms and causes of your back pain specifically.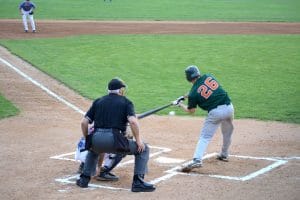 Baseball is a hugely popular sport that many people enjoy. However, injuries can happen while playing the game – whether you are a professional athlete or a novice. The repetitive hitting and throwing motions in baseball put stress on the spine and make players susceptible to strains and back pain. If you notice back pain
Read More »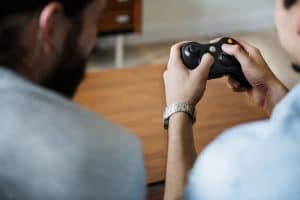 Playing video games is a fun pastime that many people enjoy. However, sitting for long hours can harm your health, particularly when it comes to your spine. Video gaming injuries are becoming increasingly common and include everything from back pain to carpal tunnel syndrome. If you start to experience pain while playing video games, you
Read More »
If you have lower back pain, then you're not alone. Studies show that over half of American adults experience back pain every year. Back pain is a widespread health condition that causes millions of lost workdays every year. Not only can back pain affect your career, but it can also have a significant impact on
Read More »