Chiropractic Care
for Working Lifestyle
When you work full-time, it can be very hard to fit in regular chiropractic care to sort out your aches and pains quickly. Whether you're an entrepreneur who's bootstrapping a startup, the CEO of a mega-corporation, or working in retail or hospitality, finding time for your health can always be a challenge. At SnapCrack, we know the demands of a busy working lifestyle. That's why we have designed our chiropractic facilities to meet your needs while still providing you with the chiropractic health benefits your body is begging you for. Never worry about making appointments, because at SnapCrack we have:
Immediate Treatment: No appointments and a no-wait policy mean that you get adjusted whenever you need it at one of our chiropractic walk-ins near you.
No hidden fees: Decide on the type of chiropractic manipulation therapies you want to receive, all for a set price of $29!
Treatment that suits you: If you don't like having your neck adjusted or you don't want to go out of your way to complete x-rays, then we provide you with the treatment that you feel most comfortable with.
FIRST TIME AND EVERY TIME
No Wait Policy!
Includes any or all of our chiropractic services during your visit.
Don't Want Your Neck Touched?
That's Cool With Us.
Ready to feel good again? Let's get cracking!
Want more info? Fill out the form and we will be in touch.
SnapCrack Spinal Manipulation Services for a Working Lifestyle
We have three main forms of treatment so that you get the exact chiropractic care to alleviate your aches, pains, and discomfort. Choose from:
A manual adjustment with a cracking sound that leaves you feeling amazing!
This is the type of chiropractic treatment that is most popular for those that have a busy working lifestyle. It's ideal for enhancing your joint mobility and reducing pain and discomfort. With a moderate thrust level, our local chiropractors will help remove the build-up of pressure and gas in your joints, so that you get that satisfying cracking sound that equals relief.
Back doesn't сrасk? Our drop tаblе has your back!
For a more mild form of treatment, we provide The Drop. This technique uses a Thompson Drop Table and elevates the part of your body that is causing you problems. With a simultaneous application of pressure alongside the drop of the table, you get immediate and satisfying relief. This type of treatment is more subtle than The Crack and doesn't usually involve any cracking or popping sounds. The Drop is a light yet effective type of treatment.
Nо сrасk, no drор? The click will do thе triсk!
If you're visiting SnapCrack on your lunch break or your day off from your busy working lifestyle, you might feel uncomfortable with the idea of more intense chiropractic treatment. The Click has been designed for you. Using a handheld instrument that applies a low-impulse force to your aches and pains, you get the gentlest of treatment options imaginable. Fast, precise, and subtle. This is the perfect manual therapy type for those that are nervous about experiencing cracks, pops, or drops.
SnapCrack Chiropractic for a Working Lifestyle
We have designed all of our SnapCrack facilities to be hassle-free. We know how difficult it can be to find time for the best chiropractic treatment. Our goal is always to provide you with the best benefits of chiropractic care you need to improve your vitality, function, and energy, all at your convenience. When you visit a SnapCrack Chiropractic location, you know that you are getting:
Walk-in and walk-out service: Our no-wait policy means that you don't need an appointment and you won't be wasting time when you should be back at work.
 Top-quality service: We have filled our $29 chiropractic centers with hand-picked professionals. That means you get a casual and comforting environment knowing that you are in the best professional hands.
True convenience: If we're open, you can just walk in and get treated.
No money worries: Our low costs and lack of hidden fees means that you don't even have to worry about having insurance. We know that dealing with insurance companies can take a long time, and when you're working on your career, insurance companies can be an utter pain. That's why we keep our costs so low!
This is the modern way of care. If you are suffering from discomfort or pain and you need relief as quickly as possible, then stroll through the doors of SnapCrack and visit a chiropractor to have all of your issues addressed and resolved.
Your First Visit to SnapCrack
At SnapCrack, we don't complicate our service with insurance. That's right! You can actually get medical treatment without the nightmare-inducing hassle of dealing with insurance companies. That's because our prices are set and kept low. We believe that everyone should have access to affordable chiropractic treatment because we know that a life lived in pain is a torment that can be easily avoided. Whether you've got the biggest and best insurance policy in the country or you don't have health insurance at all, you can still walk straight into SnapCrack Chiropractic and get the treatment that you need for only $29 without the hassle.
With a focus on providing immediate treatment whenever you need it, SnapCrack should be your first port of call when your low back pain is becoming intolerable. Don't worry about making an appointment. Just make it through the door, and we'll take care of the rest.
Local Chiropractors for Back Pain at SnapCrack
Whether you're sitting at a desk all day or standing, it is likely that you are experiencing some back or neck pain. Whether you are looking for a chiropractor for neck pain, a chiropractor for upper back pain, or a chiropractor for lower back pain, SnapCrack has your back!
Prolonged sitting may result in the forward head posture, which can further cause compression of the cervical spine. A SnapCrack chiropractor can fix forward head posture and relieve the compression on the spinal nerves to eliminate your neck and upper back pain. This will also help to prevent chronic pain conditions from developing in the future.
With our quick service and low prices that mean you don't have to stress about insurance policies, SnapCrack is the most effective and efficient chiropractic treatment option for those with a busy working lifestyle. No matter where you are in your career, you'll feel energized and pain-free after a visit to SnapCrack. Come and chat with a member of the team today, and you could be more effective at work too!
You might consider pausing your chiropractic sessions while you're pregnant. But don't cancel your next appointment quite yet. Many doctors say there are no known complications caused by chiropractic therapy. It's safe regardless of the term of pregnancy you're in. Additionally, you can expect many benefits from receiving help from a chiropractor while pregnant. If
Read More »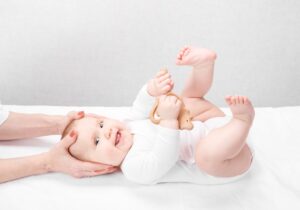 When you go to get chiropractic treatment, you might wonder if your baby can, too. Your baby might feel the same sense of relief you do if they received chiropractic therapy. It is not only safe for babies to receive treatments from chiropractors but also healthy for them. For treating newborns, chiropractic therapy is an
Read More »
FIRST TIME AND EVERY TIME
No Wait Policy!
Includes any or all of our chiropractic services during your visit.
Don't Want Your Neck Touched?
That's Cool With Us.
Want more info? Fill out the form and we will be in touch.
Ready to feel good again? Let's get cracking!
FIRST TIME AND EVERY TIME
No Wait Policy!
Includes any or all of our chiropractic services during your visit.
Don't Want Your Neck Touched?
That's Cool With Us.
Want more info? Fill out the form and we will be in touch.
Ready to feel good again? Let's get cracking!