SNAPCRACK CHIROPRACTIC
Adjustments for Mid Back Pain
Chiropractic Care for


Mid Back Pain
If you're looking for hassle-free treatment for your mid back pain, then SnapCrack Chiropractic has been designed for you. Our locations have been created so that they cater to the fast pace of modern life. We have hand-picked a team of licensed chiropractic physicians that are specialists when it comes to diagnosing and treating the causes and symptoms of mid back pain. Our no-wait policy means that your visit with us is quick and you're not hanging around waiting for pain relief. If you've been suffering from mid back pain and you've had enough, then it's time to walk into your nearest SnapCrack.
When you walk into a SnapCrack Chiropractic, you are going to get a health experience unlike any other. Not only will you be getting the best chiropractic care possible for mid back pain, but you'll be able to get adjusted whenever you want it and however you want it. What makes us stand out is our commitment to providing the very best in chiropractic services, and a healthcare model of:
No waiting: Our no-wait policy means that you walk into the SnapCrack location nearest to you when you need some mid back pain relief and get treated immediately. We have an in-and-out service that can't be beaten and ensures that every patient that walks through the doors of our facility don't have to hang around waiting for relief from aches, pains, and discomfort.
Casual and Courteous Environment: Our fully licensed chiropractic physicians have been hand-picked by us so that you only get the best in professional and comfortable treatment. At SnapCrack Chiropractic, we aim for our facilities to be casual and relaxing while maintaining the high level of care that we are renowned for.
No hassles: We don't take appointments, so you know that instant thoracic spine pain relief is never far away. As well as avoiding the need for planning ahead to alleviate your mid back pain, we also ensure that you avoid insurance hassles. Simply walk in, choose your treatment, and pay the set price. There are no hidden fees, no pressure, and no commitments, all while providing the ultimate in modern healthcare.
FIRST TIME AND EVERY TIME
Includes any or all of our chiropractic services during your visit.
Want more info? Fill out the form and we will be in touch.
Don't Want Your Neck Touched? That's Cool With Us.
Ready to feel good again? Let's get cracking!
First Time Visits to SnapCrack for Mid Back Pain
If it's your first time visiting a SnapCrack location, then you're in for some surprises. Most first-time visitors are stunned by the speed of the service that we provide. Simply walk in at any time, so you can choose the most convenient time for you. Our team will conduct a brief check of your medical history, and a medical exam follows this. This helps to identify the causes of your mid back pain. The more that we can understand your health levels and the reasons for your mid back pain, the easier it is to minimize your discomfort or pain.
Then we get cracking! You simply choose the type(s) of spinal manipulation techniques that you want and come back whenever you need. It's that simple.
Chiropractors for Mid Back Pain Near You
We offer three main types of chiropractic treatments for mid back pain. The best one for you will depend on what is causing your discomfort and your own personal preferences. Your chiropractor will be able to advise you on which will be the most effective, but the final decision on treatment type will be yours. You can choose from:
A manual adjustment with a cracking sound that leaves you feeling amazing!
The most popular type of chiropractic treatment for mid back pain, The Crack is a diversified technique that can enhance the mobility of your joints and minimize any pain or discomfort in your spine. This is the type of treatment that involves some moderate thrust from your chiropractor, and that means you get that satisfying cracking and popping sound that signals instant and satisfying relief.
Back doesn't сrасk? Our drop tаblе has your back!
This is a more mild form of treatment for those who aren't fans of that popping noise. Using a Thompson Drop Table, we will first elevate the part of your body that is causing your mid back pain. Then, the table literally drops. As it drops, your chiropractor will apply a mild level of thrust. This results in a lighter adjustment, but it remains an effective and precise method for the treatment of mid back pain.
Nо сrасk, no drор? The click will do thе triсk!
Some patients are looking for the ultimate in gentleness when it comes to soothing the discomfort of mid back pain. That's why we have The Click. Using a handheld instrument, we focus a low-impulse force onto the part of your back that needs treatment. This rapid treatment type is gentle, but it's extremely effective at the realignment of vertebrae, meaning that you get relief from your mid back pain without any surprises.
If you're living with pain and looking for a chiropractor for mid back pain, then you know how frustrating it can be. If you've had enough of suffering in silence, then simply walk into your nearest SnapCrack. You could be walking out in five minutes with your aches and pains gone. Let's get cracking!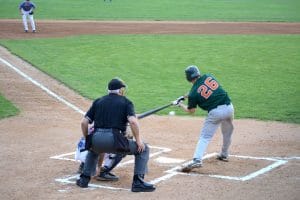 Baseball is a hugely popular sport that many people enjoy. However, injuries can happen while playing the game – whether you are a professional athlete or a novice. The repetitive hitting and throwing motions in baseball put stress on the spine and make players susceptible to strains and back pain. If you notice back pain
Read More »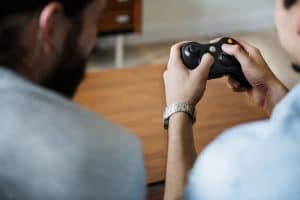 Playing video games is a fun pastime that many people enjoy. However, sitting for long hours can harm your health, particularly when it comes to your spine. Video gaming injuries are becoming increasingly common and include everything from back pain to carpal tunnel syndrome. If you start to experience pain while playing video games, you
Read More »
If you have lower back pain, then you're not alone. Studies show that over half of American adults experience back pain every year. Back pain is a widespread health condition that causes millions of lost workdays every year. Not only can back pain affect your career, but it can also have a significant impact on
Read More »