Walk-in Chiropractors Near Little Haiti
Walk-in Chiropractor In Brickell
$29 CHIROPRACTIC ADJUSTMENTS


FIRST TIME AND EVERY TIME​
    No Appointments
    No Hidden Fees
    Don't Like People Touching Your Neck? That's Cool With Us.
Monday: 
Tuesday: 
Wednesday: 
Thursday: 
Friday:
Saturday: 
Sunday: 
12:00 PM – 8:00 PM
12:00 PM – 8:00 PM
12:00 PM – 8:00 PM

12:00 PM – 8:00 PM

12:00 PM – 8:00 PM

10:00 AM – 6:00 PM

Closed
FIRST TIME AND EVERY TIME
Includes any or all of our chiropractic services during your visit.
Want more info? Fill out the form and we will be in touch.
Don't Want Your Neck Touched? That's Cool With Us.
Ready to feel good again? Let's get cracking!
You might be passing through Lemon City to enjoy the best Haitian food that Florida can offer. You might go to Little Haiti for its galleries or its theatre. You might go to Little Haiti every weekend for its vibrant dancing. You might work in Ti Ayiti, contributing to the world-class cultural experience enjoyed by everybody you meet. Whatever your reasons for going to Little Haiti, you now have one more.
SnapCrack's Brickell chiropractor near Little Haiti location is here to help you relax, de-stress, and deal with your aches and your pains safely and healthily. Chiropractic care can help you deal with pains throughout your body, be they from working too hard, playing sports, or even aging.
How Chiropractic Care Helps
When your lifestyle or specific events impart physical or mechanical stress on your body, the vertebrae that make up your spine might slightly change their position. They might not be where they were meant to be, which can cause them to compress some of the major nerves of your body, responsible for providing nervous feedback for many significant functions your body needs to conduct on a day to day basis.
This might not have any immediate effect, but it could also impact how your body functions and can cause long-term damage to your nerves. By interfering with your nerves, misaligned vertebrae might cause you to feel pain all over your body in the form of tingling, throbbing, or sharp stabs.
Chiropractic adjustment looks to change the position of your vertebrae, shifting them into their proper positions. This causes compression to be relieved and allows for proper nervous function as well as increasing blood flow, especially around your joints in your back. This increased blood flow equips your body with what it needs to heal itself, leading to reduced pain and the benefits of natural healing.
How SnapCrack Helps Little Haitians
We look to make chiropractic care as straightforward as possible. If you're in pain, the last thing you need is to fuss about with insurance and worry about how you can afford to make yourself better.
The last thing your body needs is for you to mask the pain with medicines that have all kinds of effects in the long term. SnapCrack offers hassle-free natural pain relief with chiropractic care. We don't take insurance, as our adjustment costs $29 for your first time, as well as every time after that.
Another thing that people hate about getting good healthcare for themselves is that it often requires taking time out of the day to get seen and tended to. SnapCrack is different, we're built around the understanding that you're a busy person – physical treatment should be as quick and easy as driving to the pharmacy to buy some anti-inflammatories.
That's why SnapCrack has a no-wait policy. Simply walk into our chiropractor in Brickell near Little Haiti and see one of our chiropractic specialists in moments. Our services are designed to be fast and effective, so no matter how busy you are, you will be able to benefit from the very best chiropractic care.
If you are one of the many people that return to the chiropractors for natural pain relief whenever you need it, we also have a membership program. For $49 per month, you get 6 SnapCrack sessions, which include any or all of our chiropractic services during your visit. If you use all of them, sessions will cost you just $6.50, but even if you visit just twice a month, you will enjoy significant savings.
Chiropractic Services Near Little Haiti
Included in your flat-fee of $29, you get any or all of the following services:
The Crack Method
This is likely what you think of first when you think of chiropractic care. Your chiropractor will manually manipulate your body to put pressure on your spine to realign the vertebrae. You should hear a crack, caused by naturally occurring gases being pulled into the adjusted joint capsules.
The Drop Method
When your back doesn't crack, our experts might recommend The Drop. This technique uses a drop table and is a gentler way to align your spine. Your chiropractor will use the motion of the drop table to help to move your vertebrae into place and decompress your nerves.
The Click Method
The Click is gentler still and involves using a hand-held tool to click your spine back into position. Don't expect to hear a click, though; this technique is so tender that it bypasses your body's defenses to deliver you fast, effective, and gentle relief.
Vitamin Therapy
If you live an active lifestyle, or if you just want to enjoy the many benefits of vitamins, we can help out! With intramuscular vitamin injections, you will get an efficient boost of either Vitamin C, Vitamin B12 or Zinc for only $35 (or just $19 if you're a member)!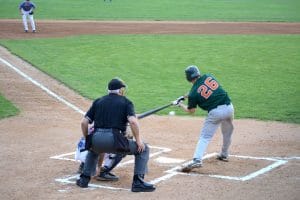 Baseball is a hugely popular sport that many people enjoy. However, injuries can happen while playing the game – whether you are a professional athlete or a novice. The repetitive hitting and throwing motions in baseball put stress on the spine and make players susceptible to strains and back pain. If you notice back pain
Read More »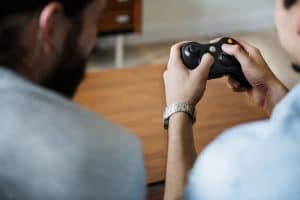 Playing video games is a fun pastime that many people enjoy. However, sitting for long hours can harm your health, particularly when it comes to your spine. Video gaming injuries are becoming increasingly common and include everything from back pain to carpal tunnel syndrome. If you start to experience pain while playing video games, you
Read More »
If you have lower back pain, then you're not alone. Studies show that over half of American adults experience back pain every year. Back pain is a widespread health condition that causes millions of lost workdays every year. Not only can back pain affect your career, but it can also have a significant impact on
Read More »