Walk-In Chiropractors Near Bal Harbour Islands
Walk-in Chiropractor In Miami Beach
$29 CHIROPRACTIC ADJUSTMENTS


FIRST TIME AND EVERY TIME​
    No Appointments
    No Hidden Fees
    Don't Like People Touching Your Neck? That's Cool With Us.
Monday: 
Tuesday: 
Wednesday: 
Thursday: 
Friday:
Saturday: 
Sunday: 
12:00 PM – 8:00 PM
12:00 PM – 8:00 PM
12:00 PM – 8:00 PM

12:00 PM – 8:00 PM

12:00 PM – 8:00 PM

10:00 AM – 6:00 PM

Closed
FIRST TIME AND EVERY TIME
Includes any or all of our chiropractic services during your visit.
Want more info? Fill out the form and we will be in touch.
Don't Want Your Neck Touched? That's Cool With Us.
Ready to feel good again? Let's get cracking!
Bay Harbor Islands is a great place to be for single professionals and families alike. Surrounded on all sides by water, close to the great Bal Harbour Village, and with plenty to do and enjoy right in your own backyard, it's a great location.
To fully enjoy that vacation, however, you really need to be on the top of your game. If family life is wearing your body down, or your posture has caused an ache in your back that you just cannot seem to get rid of, we can help.
Chiropractic therapy is for everyone. It can help improve any aches and pains you may experience, help improve your circulation and mobility, and can even help boost your immune system. With a SnapCrack Miami Beach chiropractor near the Bay Harbor Islands, you can easily just walk right in and see a fully licensed chiropractor in minutes.
Our Chiropractic Services at SnapCrack
We pride ourselves on our no-wait policy and affordable prices, both of which work together to make it an easy choice to treat yourself to chiropractic therapy whenever you need it. For non-members, single sessions cost just $29 the first time – and every time thereafter. Even IV therapy, which can cost hundreds of dollars, is priced affordably at SnapCrack, at just $35.
Better yet, for $39 per month, you can enjoy six included chiropractic sessions (which works out to about $6.50 per session), as well as IV vitamin therapy for just $19. If you want to treat yourself to chiropractic care even just twice a month, our membership is priced to be the better deal.
The Drop
The Drop is our most gentle offering here at SnapCrack chiropractor in Miami Beach. It is perfect for those who require regular chiropractic adjustments to their spine, or those who need a gentle touch during their session. Your chiropractor will make use of our specially designed drop tables and use the gentle motion from the table to adjust your spine and provide you with the relief you are looking for.
The Click
The Click works with your body, so you won't hear any cracking noise, though pressure is placed on your spine with a hand-held instrument that your licensed chiropractor will use to "click" your spine back into its rightful position. By working your spine in this way, your chiropractor bypasses the body's natural defenses, allowing you to enjoy a gentle spinal adjustment than The Crack.
The Crack
The Crack is based on the most popular and prevalent techniques used around the world. It is the ultimate classic when it comes to chiropractic therapy. Using manual manipulation and pressure, your chiropractor will adjust your spine.
In doing so, they will cause that crack that many of us are familiar with when we have a really good stretch or when we crack our knuckles, but no need to worry! The crack is only the sound of naturally occurring gas escaping. Your back and bones are not harmed and perfectly safe.
Vitamin Boosters
Spinal health can greatly affect your immune system, and regular chiropractic treatments can actually bolster your immune system on top of providing pain relief, improved circulation, and, of course, better mobility. To help your immune system improve more still, we also offer vitamin boosters. Give your body the full dose of vitamin C, Zinc, and vitamin B12 that it needs to stay strong against infection and viruses and feel great day after day.
Health Benefits of Chiropractic Care
There are so many health benefits of chiropractic care.
Improved Mobility and Circulation
Without any pinched nerves getting in your way, you can move more freely and enjoy improved circulation along your spine, greatly improving overall health in a matter of moments.
Improved Immune System
Professionals have long been interested in the connection between spinal health and immune health and have found that a healthy spine improves the immune system's response to bacteria and viruses.
To understand why, think of your spine as an information highway from your body to your brain. If your body can send warning messages of a foreign body to your brain faster, your brain, in turn, can send out a signal to your immune system. If your spine is misaligned or a nerve is pinched, then this information can take longer to travel to and from your brain.
Stress, poor posture, muscle strain, sports injuries, even just pulling your back doing something completely mundane – all of it takes its toll on your back. Most people try to massage their aches and pains away, but if the issue is in your spine (for example, if it is pinching a nerve), then it can be nigh impossible to fix the issue on your own.
Fortunately, chiropractic care is a perfect solution. With simple spinal adjustments made by a professional, you can fix these underlying causes and enjoy intense relief from aches and pains.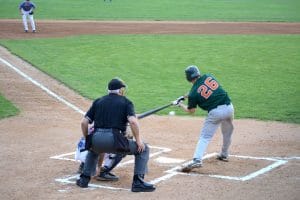 Baseball is a hugely popular sport that many people enjoy. However, injuries can happen while playing the game – whether you are a professional athlete or a novice. The repetitive hitting and throwing motions in baseball put stress on the spine and make players susceptible to strains and back pain. If you notice back pain
Read More »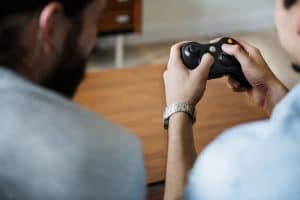 Playing video games is a fun pastime that many people enjoy. However, sitting for long hours can harm your health, particularly when it comes to your spine. Video gaming injuries are becoming increasingly common and include everything from back pain to carpal tunnel syndrome. If you start to experience pain while playing video games, you
Read More »
If you have lower back pain, then you're not alone. Studies show that over half of American adults experience back pain every year. Back pain is a widespread health condition that causes millions of lost workdays every year. Not only can back pain affect your career, but it can also have a significant impact on
Read More »