Walk-in Chiropractor Near Westview
Walk-in Chiropractor In Hialeah
$29 CHIROPRACTIC ADJUSTMENTS


FIRST TIME AND EVERY TIME​
    No Appointments
    No Hidden Fees
    Don't Like People Touching Your Neck? That's Cool With Us.
Monday: 
Tuesday: 
Wednesday: 
Thursday: 
Friday:
Saturday: 
Sunday: 
12:00 PM – 8:00 PM
12:00 PM – 8:00 PM
12:00 PM – 8:00 PM

12:00 PM – 8:00 PM

12:00 PM – 8:00 PM

10:00 AM – 6:00 PM

Closed
FIRST TIME AND EVERY TIME
Includes any or all of our chiropractic services during your visit.
Want more info? Fill out the form and we will be in touch.
Don't Want Your Neck Touched? That's Cool With Us.
Ready to feel good again? Let's get cracking!
No one should ever have to live in pain. At least, that's the view of SnapCrack, a walk-in chiropractor in Hialeah near Westview. If you are suffering from pain in your neck, shoulders, hips, legs, or anything related to your back, you should see us. You should also see us if you have fibromyalgia or if you are hurt after an accident, a slip, trip, or fall, or have a sporting injury. We can also help if you have migraines and stress.
In other words, a well-trained, highly skilled chiropractor like the ones you'll find at SnapCrack are going to be able to help you with all kinds of different conditions and injuries, many of which you probably wouldn't associate with chiropractic medicine.
Many people would benefit greatly from visiting a chiropractor. You might be one of them, and you might not even realize it yet because the alternative therapy of chiropractic care is a mystery to many. Perhaps your pain is something you have learned to live with and feel there is nothing that can be done.
A visit to a good chiropractor can determine what can be done and how we can help. We can always offer advice and give you options, so there is never a moment when you aren't in complete control of your body and how it is treated.
SnapCrack helps people every day, reducing or eliminating their pain, giving them increased mobility, and showing them how to protect themselves in the future so that, as far as possible, no relapses occur. We know we can do this because we listen to the stories our patients tell us.
We listen closely, and we ask questions to get even deeper into the information we need. What we don't do is guess or assume, as your health and well-being are far too important for that. We value our reputation too much to think we know the issue before we really do. So, we make sure, taking the time to talk, and only then can we develop the ideal treatment plan.
That treatment plan is important too. It's bespoke, unique to each individual because each individual is unique. We take into account what happened, and the reason for your pain and we think about what you want to achieve and what your life is like (what hobbies you have, for example, or the work you do). With this knowledge, we can determine the treatment plan that is going to give you not only relief in the here and now but protect you in the future.
Finding the Root Cause Is Key
So, as you can see, SnapCrack walk-in Hialeah chiropractor near Westview is different from others and different from what you might expect. We work in our own way, and it's a way that has been proven to be entirely beneficial for our patients.
This includes making sure we find and treat the root cause of the pain rather than just the pain itself. If we don't do this, we run the risk of allowing the problem to reoccur, causing pain for mobility issues for the patient once again. This would be an unfinished job, and not one we would be proud of.
So, finding the root cause is always going to be a priority; it will help our patients so much more than simply treating the symptoms they are presenting.
You can't have failed to notice that SnapCrack is a walk-in chiropractor near Westview. Being a walk-in clinic is one of the ways we can achieve such great results; we offer this service to our patients because we know it's what they need, and it helps them to become healthier much sooner. You can be seen on the same day as you understand you need help, rather than having to wait for a long time for your appointment to come around.
As a walk-in clinic, we are always ready and waiting for patients to come through the door, and we are happy to help in any way we can, from advice to treatments for all kinds of problems including:
Migraines and tension headaches
Stiff muscles and joints
Digestive issues (such as fibromyalgia)
Stress problems
Rotator cuff injuries
Sporting injuries
Whiplash
Back, neck, shoulder, leg, and hip pain
All of this is within our remit to treat, as well as many other conditions. Reading the list, you are probably going to be surprised by some of the entries, but since the spine plays such a major part in the body and is linked to everything, it really can make life miserable when it is out of alignment, even by a small bit. We will put it back into place and give you all the advice you need about staying healthy in the future.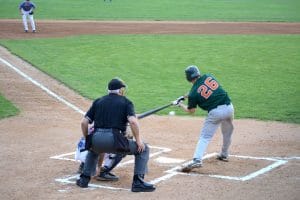 Baseball is a hugely popular sport that many people enjoy. However, injuries can happen while playing the game – whether you are a professional athlete or a novice. The repetitive hitting and throwing motions in baseball put stress on the spine and make players susceptible to strains and back pain. If you notice back pain
Read More »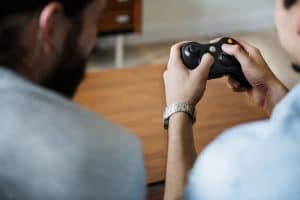 Playing video games is a fun pastime that many people enjoy. However, sitting for long hours can harm your health, particularly when it comes to your spine. Video gaming injuries are becoming increasingly common and include everything from back pain to carpal tunnel syndrome. If you start to experience pain while playing video games, you
Read More »
If you have lower back pain, then you're not alone. Studies show that over half of American adults experience back pain every year. Back pain is a widespread health condition that causes millions of lost workdays every year. Not only can back pain affect your career, but it can also have a significant impact on
Read More »