SNAPCRACK CHIROPRACTIC IN MIAMI BEACH
$29 CHIROPRACTIC ADJUSTMENTS
SNAPCRACK CHIROPRACTIC IN MIAMI BEACH
$29 CHIROPRACTIC ADJUSTMENTS


FIRST TIME AND EVERY TIME​
    No Appointments
    No Hidden Fees
    Don't Like People Touching Your Neck? That's Cool With Us.
Monday: 
Tuesday: 
Wednesday: 
Thursday: 
Friday:
Saturday: 
Sunday: 
12:00 PM – 8:00 PM
12:00 PM – 8:00 PM
12:00 PM – 8:00 PM

12:00 PM – 8:00 PM

12:00 PM – 8:00 PM

10:00 AM – 6:00 PM

Closed
FIRST TIME AND EVERY TIME
Includes any or all of our chiropractic services during your visit.
Want more info? Fill out the form and we will be in touch.
Don't Want Your Neck Touched? That's Cool With Us.
Ready to feel good again? Let's get cracking!
You don't need an appointment: Skip long waiting times and get treatment from our licensed chiropractic physicians in Miami Beach.
There are zero hidden fees: One fee, one treatment, no expensive extras, and no insurance companies to deal with.
You don't like having your neck touched? We get it: We won't adjust your neck. No X-rays? Not a problem!
SNAPCRACK CHIROPRACTIC IN MIAMI BEACH
We are a hassle-free chiropractic service that has been designed to cater to your needs. No matter how frantic your lifestyle, we offer affordable treatment and no long wait times. Our doctors of chiropractic have been hand-picked so that you get the high-quality chiropractic care and quick service you need to be in and out of our SnapCrack location in Miami Beach in no time.
If you want to improve your vitality, energy, and ability to function, then let's get cracking so that you feel great again!
Depending on your needs, our expert chiropractors in Miami Beach FL will offer you a range of treatment types. Our three main types of treatment are:
A manual adjustment with a cracking sound that leaves you feeling amazing!
The most popular form of chiropractic treatment in Miami Beach and around the world, this is a moderate form of treatment that most people will be aware of. Firm chiropractic treatment will release all of those gases that have built up in your joints so that you get that satisfying cracking or popping sound that will relieve your pain and discomfort.
Back doesn't сrасk? Our drop tаblе has your back!
If you don't want to crack your back, then we've got a drop table that has your back! A more mild form of chiropractic treatment for people that need a more subtle adjustment, we use the Thompson drop-table technique to target your specific aches and pains. The drop-table elevates your problem area and then drops it as our Miami Beach chiropractors exert light pressure. This is a light and effective treatment that avoids popping, cracking, or stressing you out.
Nо сrасk, no drор? The click will do thе triсk!
This is the most gentle form of chiropractic treatment available. Using a handheld instrument, our chiropractors in Miami Beach will help to click your vertebrae back into place with speed, precision, and a gentleness that you might be looking for. This is a very precise form of chiropractic treatment and could be the key to a better quality of life.
Intramuscular Vitamin Injection
We are the Miami Beach chiropractor that goes above and beyond for your health and wellbeing. After you feel the immense relief from The Crack, The Drop, or The Click you can also benefit from an Intramuscular Vitamin Injection. Boost your health from the inside out with some of the best prices in Miami Beach and beyond.
ZINC
Our Zinc vitamin booster will help your body's immune system. Zinc is also essential to make proteins, DNA and is needed to create all the genetic material found in every single cell. Zinc is especially important in infants, children, and during pregnancy, as it is critical to development.  
VITAMIN C
Vitamin C is a great go-to vitamin that we all need more of. It's key to keep your cells healthy, helps you heal faster, and is also important for maintaining healthy skin, bones, cartilage, and blood vessels.
VITAMIN B12
Vitamin B12 is a very important vitamin that works to help produce red blood cells and supports healthy hair, skin, and nails – but that's not all. Studies have also shown that Vitamin B12 can help prevent many conditions, from anemia, to macular degeneration, to even memory loss.
BIOTIN
Biotin, also known as vitamin H, is very important for your body. It is needed to convert other nutrients into energy that your body can use. Like others on this list, it is very important in the health of skin, hair, and your nails.
GLUTATHIONE
Glutathione helps prevent and repair damage caused by a variety of causes. It can reduce oxidative stress, reduce cell damage, and so much more.
HANGOVER COCKTAIL
Have a heavy night out? Enjoy your day off with a day at Miami Beach. Visit our Miami Beach chiropractors to work out any aches in your back, and then shake off the hangover with our special hangover cocktail. Just ask your Miami Beach chiropractor about our hangover cocktail, and it's a special price.
WHAT TO EXPECT AT SNAPCRACK CHIROPRACTIC CARE IN MIAMI BEACH
Every visit to our Miami Beach chiropractic location is a great experience. Not only will you get the fast treatment and chiropractic services that you've always wanted, but you also get that treatment whenever you need it and however you want it. We guarantee:
    A prompt 'no-waiting' policy
    An in-and-out service that will amaze you
    A comfortable and casual environment where you can relax
    Friendly, professional and courteous service
    The convenience of knowing that if we're open, you can get seen at any time
    No annoying insurance worries
This is the modern way of caring for the residents of Miami Beach.
Walk-In Any Time You Like!
If you decide that that today is the day that you need to see a local chiropractor, then just stroll on in. You won't have to wait to be seen, and you don't need to make an appointment with our chiropractors in South Beach.
Most chiropractic facilities will demand that you have adequate insurance coverage. It doesn't matter to us if you have fantastic insurance or zero. Our incredibly low prices mean that chiropractic care in Miami Beach is available to everyone at an affordable price of $29. Dealing with insurance companies is such a major hassle, so it's good to know that you can get the chiropractic treatment you need without the financial and bureaucratic stresses of dealing with health care insurance.
We offer the best chiropractic care in Miami Beach, and at the best prices. It doesn't matter if you have had these aches for a while or hit the water hard and want a quick adjustment. With that no-wait policy and our exceptional prices for chiropractic care in Miami Beach, you can treat yourself to chiropractic treatment if, when, and where you need it.
CHIROPRACTIC WALK-IN RATES
It costs just $29 to see a chiropractor in Miami Beach. This is the flat rate, with no hidden fees or added costs at the end of your session. The Click, The Drop, and The Crack all cost just $29 for non-members. That is one of the best prices you'll find for a Miami Beach chiropractor.
VITAMIN BOOSTER WALK-IN RATES
We don't just offer the great rates for Miami Beach chiropractic care; we also offer some of the best rates for IV vitamin booster. Walk-in rates are a low $35 per booster!
Members keep saving at our Miami Beach chiropractic clinic. For just $49 per month, you get access to six chiropractic sessions in that month, as well as one intramuscular vitamin booster included in the price!
VITAMIN BOOSTER MEMBERSHIP DISCOUNT
Our membership is meant to make it easy to see your Miami Beach chiropractic when you need it. If you need more than one vitamin boosters, however, we are here for you. Our members pay just $19 for every additional intramuscular booster until your month, and membership resets at the start of next month.
Does Chiropractic Treatment Work?
Chiropractic care is safe, effective, and highly beneficial for tackling a variety of health issues. Most people that try chiropractic care swear by it and return for more. Scientifically speaking, daily physical and mechanical stress to your body can cause movements in your vertebrae. That can cause compression on the nerves, and that can result in aches, pains, and discomforts. Chiropractic treatment alleviates that pressure and realigns your spine. That means that you get rid of those aches and pains, and you also help blood flow too. That makes self-repair much easier and faster!
You don't have to miss a day at work, that's for sure. It might be hard to believe, but experiencing the benefits of chiropractic adjustments with a chiropractor near you will only take 5 minutes! It'll take a little longer if it's your first visit to our center in Miami Beach, but the lack of waiting times and our commitment to an in-and-out treatment policy means that you can pop in on your lunch break to hear the pop of your joints, or even get quick treatment while running errands.
If your aches and pains are bringing you down, then visit a chiropractor in South Beach Miami at SnapCrack Chiropractic. Enjoy fast, cost-effective, and convenient professional treatment that can transform your life!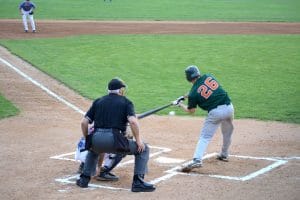 Baseball is a hugely popular sport that many people enjoy. However, injuries can happen while playing the game – whether you are a professional athlete or a novice. The repetitive hitting and throwing motions in baseball put stress on the spine and make players susceptible to strains and back pain. If you notice back pain
Read More »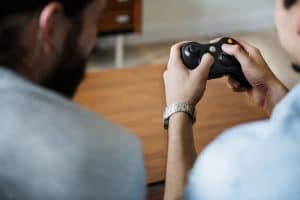 Playing video games is a fun pastime that many people enjoy. However, sitting for long hours can harm your health, particularly when it comes to your spine. Video gaming injuries are becoming increasingly common and include everything from back pain to carpal tunnel syndrome. If you start to experience pain while playing video games, you
Read More »
If you have lower back pain, then you're not alone. Studies show that over half of American adults experience back pain every year. Back pain is a widespread health condition that causes millions of lost workdays every year. Not only can back pain affect your career, but it can also have a significant impact on
Read More »