SNAPCRACK CHIROPRACTIC IN MIAMI BEACH
$29 CHIROPRACTIC ADJUSTMENTS
SNAPCRACK CHIROPRACTIC IN MIAMI BEACH
$29 CHIROPRACTIC ADJUSTMENTS


FIRST TIME AND EVERY TIME​
    No Appointments
    No Hidden Fees
    Don't Like People Touching Your Neck? That's Cool With Us.
Monday: 
Tuesday: 
Wednesday: 
Thursday: 
Friday:
Saturday: 
Sunday: 
12:00 PM – 8:00 PM
12:00 PM – 8:00 PM
12:00 PM – 8:00 PM

12:00 PM – 8:00 PM

12:00 PM – 8:00 PM

10:00 AM – 6:00 PM

Closed
FIRST TIME AND EVERY TIME
Includes any or all of our chiropractic services during your visit.
Want more info? Fill out the form and we will be in touch.
Don't Want Your Neck Touched? That's Cool With Us.
Ready to feel good again? Let's get cracking!
You don't need an appointment: Skip long waiting times and get treatment from our licensed chiropractic physicians in Miami Beach.
There are zero hidden fees: One fee, one treatment, no expensive extras, and no insurance companies to deal with.
You don't like having your neck touched? We get it: We won't adjust your neck. No X-rays? Not a problem!
SNAPCRACK CHIROPRACTIC IN MIAMI BEACH
We are a hassle-free chiropractic service that has been designed to cater to your needs. No matter how frantic your lifestyle, we offer affordable treatment and no long wait times. Our doctors of chiropractic have been hand-picked so that you get the high-quality chiropractic care and quick service you need to be in and out of our SnapCrack location in Miami Beach in no time.
If you want to improve your vitality, energy, and ability to function, then let's get cracking so that you feel great again!
Depending on your needs, our expert chiropractors in Miami Beach FL will offer you a range of treatment types. Our three main types of treatment are:
A manual adjustment with a cracking sound that leaves you feeling amazing!
The most popular form of chiropractic treatment in Miami Beach and around the world, this is a moderate form of treatment that most people will be aware of. Firm chiropractic treatment will release all of those gases that have built up in your joints so that you get that satisfying cracking or popping sound that will relieve your pain and discomfort.
Back doesn't сrасk? Our drop tаblе has your back!
If you don't want to crack your back, then we've got a drop table that has your back! A more mild form of chiropractic treatment for people that need a more subtle adjustment, we use the Thompson drop-table technique to target your specific aches and pains. The drop-table elevates your problem area and then drops it as our Miami Beach chiropractors exert light pressure. This is a light and effective treatment that avoids popping, cracking, or stressing you out.
Nо сrасk, no drор? The click will do thе triсk!
This is the most gentle form of chiropractic treatment available. Using a handheld instrument, our chiropractors in Miami Beach will help to click your vertebrae back into place with speed, precision, and a gentleness that you might be looking for. This is a very precise form of chiropractic treatment and could be the key to a better quality of life.
WHAT TO EXPECT AT SNAPCRACK CHIROPRACTIC CARE IN MIAMI BEACH
Every visit to our Miami Beach chiropractic location is a great experience. Not only will you get the fast treatment and chiropractic services that you've always wanted, but you also get that treatment whenever you need it and however you want it. We guarantee:
    A prompt 'no-waiting' policy
    An in-and-out service that will amaze you
    A comfortable and casual environment where you can relax
    Friendly, professional and courteous service
    The convenience of knowing that if we're open, you can get seen at any time
    No annoying insurance worries
This is the modern way of caring for the residents of Miami Beach.
Walk-In Any Time You Like!
If you decide that that today is the day that you need to see a local chiropractor, then just stroll on in. You won't have to wait to be seen, and you don't need to make an appointment with our chiropractors in South Beach.
Most chiropractic facilities will demand that you have adequate insurance coverage. It doesn't matter to us if you have fantastic insurance or zero. Our incredibly low prices mean that chiropractic care in Miami Beach is available to everyone at an affordable price of $29. Dealing with insurance companies is such a major hassle, so it's good to know that you can get the chiropractic treatment you need without the financial and bureaucratic stresses of dealing with health care insurance.
Does Chiropractic Treatment Work?
Chiropractic care is safe, effective, and highly beneficial for tackling a variety of health issues. Most people that try chiropractic care swear by it and return for more. Scientifically speaking, daily physical and mechanical stress to your body can cause movements in your vertebrae. That can cause compression on the nerves, and that can result in aches, pains, and discomforts. Chiropractic treatment alleviates that pressure and realigns your spine. That means that you get rid of those aches and pains, and you also help blood flow too. That makes self-repair much easier and faster!
You don't have to miss a day at work, that's for sure. It might be hard to believe, but experiencing the benefits of chiropractic adjustments with a chiropractor near you will only take 5 minutes! It'll take a little longer if it's your first visit to our center in Miami Beach, but the lack of waiting times and our commitment to an in-and-out treatment policy means that you can pop in on your lunch break to hear the pop of your joints, or even get quick treatment while running errands.
If your aches and pains are bringing you down, then visit a chiropractor in South Beach Miami at SnapCrack Chiropractic. Enjoy fast, cost-effective, and convenient professional treatment that can transform your life!
Finding the right treatment for your medical condition can be difficult, especially if you are a senior or if you have a condition that you are not sure is suitable for chiropractic care. However, due to the variety of methods available, chiropractic care is suitable for the majority of spinal pain, even for those that
Read More »
Although you might think that chiropractic treatments like those performed in South Miami chiropractor SnapCrack are simple enough that they can be performed by family and friends, or even by yourself, this is not true. Many people consider adjusting themselves, such as cracking their neck. However, not only is it impossible to adjust yourself properly,
Read More »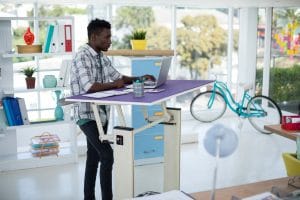 After gaining a surge in popularity in recent years, standing desks are starting to become a common occurrence in offices, and they look like they are here to stay for the foreseeable future. However, although they have become popular due to their alleged health benefits, there are also risks that you need to be aware
Read More »