Best Chiropractor in Coral Gables
Walk-in Chiropractor In Coral Gables
$29 CHIROPRACTIC ADJUSTMENTS


FIRST TIME AND EVERY TIME​
    No Appointments
    No Hidden Fees
    Don't Like People Touching Your Neck? That's Cool With Us.
Monday: 
Tuesday: 
Wednesday: 
Thursday: 
Friday:
Saturday: 
Sunday: 
12:00 PM – 8:00 PM
12:00 PM – 8:00 PM
12:00 PM – 8:00 PM

12:00 PM – 8:00 PM

12:00 PM – 8:00 PM

10:00 AM – 6:00 PM

Closed
FIRST TIME AND EVERY TIME
Includes any or all of our chiropractic services during your visit.
Want more info? Fill out the form and we will be in touch.
Don't Want Your Neck Touched? That's Cool With Us.
Ready to feel good again? Let's get cracking!
When searching for the best and dependable chiropractic service to treat your pain or joint issues, you want an easy and affordable service, and that is what our friendly team at SnapCrack offers. Our mission is to provide the most relaxing and professional standard of service for spinal realignment while eliminating any stress of long waits or expensive treatment. So, if you are looking for the best walk-in chiropractor in Coral Gables, you have certainly found it!
The Crack, The Click, or The Drop?  
These are our three primary treatment options, and there will be one that will be recommended to you when you have your initial friendly chat with your licensed chiropractor when you visit us. It is important to note that you do not always have to take the first technique offered to you: if you're recommended The Crack but The Click sounds a little more appealing, we're happy to oblige!
What You Need to Know About the Crack
With the Crack, we will manipulate your spine to treat any pain or misalignment and provide a satisfying crack in the process. This manual adjustment option provides a moderate thrust which leaves you feeling balanced and restored. Our licensed chiropractor will release any tension in the joints with an audible crack that many people find particularly satisfying!
What You Need to Know About the Click
This is the gentlest option available for those who would prefer less of a loud crack and more of a silent adjustment. This technique can be perfect for first timers. Using a hand-held instrument to gently apply pressure on the target areas of your body, relief will be easily achieved from pain without your body having to be manually manipulated to an extreme degree.
What You Need to Know About the Drop
This technique does not use manual manipulation or a hand-held instrument, but a nifty drop table that does most of the work! This technique will have you lie comfortably on the table for your chiropractor to adjust segments and drop them at the right time to apply the right pressure on various places of your body, targeted for fast and effective pain relief.
We Use Our Techniques for a Variety of Pain Issues
Whether it is lower back, mid-back, or upper back pain, or maybe even foot, leg, neck, or head pain, our techniques will always provide effective and comfortable relief, any time and during a drop-in that suits your schedule.
We understand that sciatica, in particular, is an extremely painful and debilitating condition. Chiropractic care is particularly effective for issues of sciatica because it thoroughly works to relieve any pressure which a misaligned spine may be causing on the sciatic nerve.
If you're suffering from any form of back pain, including sciatica, it's essential that you seek treatment for it – both for the good of your health, and so that you don't have to live with such a painful and uncomfortable condition.
Sciatica can easily worsen and become serious and may even see you unable to move or walk properly without extensive pain. That is why we would recommend a visit to our walk-in center in Coral Gables as soon as convenient for you so that we can work to alleviate the pressure before it gets any worse. Sciatica pain and any other back pain cannot simply be ignored, and we do not want it to prevent your mobility or happiest, pain-free life.
Although we do not require any referrals from a healthcare professional, it is safe to say that most healthcare professionals and doctors would refer you to a Coral Gables chiropractor to alleviate any pain or discomfort associated with sciatica. Our policy eliminates any need for doctor appointments and referrals. Instead, it concentrates on finding the quickest and best relief for your sciatica and back pain – or any other pain, for that matter.
When your spine is misaligned, it can throw your whole body out of whack. Your central nervous system is positioned in the spine, so even the slightest misalignment or extra pressure means you can experience any manner of pain or discomfort all over your body. Our dedicated service works to successfully eliminate and alleviate any issues of excess pressure or pain caused by misaligned vertebrae.
Even the smallest issue of misalignment can cause big issues for the rest of your body, and troubles with your spine may even cause issues like headaches and foot pain. Our specialized team will always be able to analyze and pinpoint the root cause of any pain or discomfort you're experiencing and get to work straight away on snapping, cracking, or aligning your spine back to the way it should be.
We pride ourselves on friendly, efficient, and quick service, and welcome anyone who chooses to walk through our doors.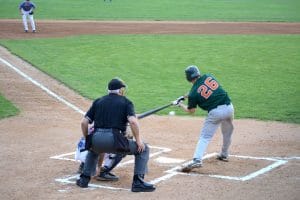 Baseball is a hugely popular sport that many people enjoy. However, injuries can happen while playing the game – whether you are a professional athlete or a novice. The repetitive hitting and throwing motions in baseball put stress on the spine and make players susceptible to strains and back pain. If you notice back pain
Read More »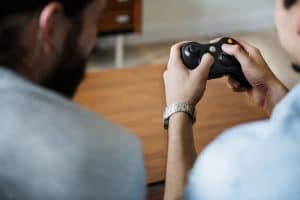 Playing video games is a fun pastime that many people enjoy. However, sitting for long hours can harm your health, particularly when it comes to your spine. Video gaming injuries are becoming increasingly common and include everything from back pain to carpal tunnel syndrome. If you start to experience pain while playing video games, you
Read More »
If you have lower back pain, then you're not alone. Studies show that over half of American adults experience back pain every year. Back pain is a widespread health condition that causes millions of lost workdays every year. Not only can back pain affect your career, but it can also have a significant impact on
Read More »